Enhancing Curb Appeal with Shutters
If you're like us, you occasionally wonder how to improve the overall curb appeal of your home.  In addition to having a clean and organized exterior there are some no-brainer improvements.  For example, you could add landscape lighting, dress up the front door or spruce up the yard with shrubs and flowers.  Keeping the grass cut on a regular basis is another obvious necessity, although we do struggle with that one ourselves.  I can promise you, our readers, that we're probably never going to stop doing exterior projects around here.  There will be times where we take long breaks, like we did this summer, to concentrate on interior projects, but for the most part we plan on being in and out quite a bit.
Since we haven't done many curb appeal posts this summer, I'm borrowing one from my mom's near-the-beach house.  The exterior of the house is a little on the bland side.  We posted about the interior work here as well about the concrete countertops.  Admittedly, we haven't done much with the outside.  Here's a recent shot.
My sister or sisters came up with the plan to add some character and curb appeal by hanging shutters.  Sounded like a great idea.  I've never hanged shutters before, but I figured it wouldn't be too hard.  As it turns out, my brothers-in-law ended up hanging all but one of the them without my help.  I got off easy!!   I did hang one and I'll show you what's involved in case you ever want to add them yourself.
My sister measured and ordered these black shutters from a local building supplies company (Lowes or Home Depot, I think).  She measured the length to be about the same height as the window.  The width is a nominal size.. something like 12″-15."  They are a high quality plastic and come pre-colored.
My brother-in-law, Kevin or K-town as absolutely no one calls him, started by drilling a 3/8″ diameter hole in each shutter corner.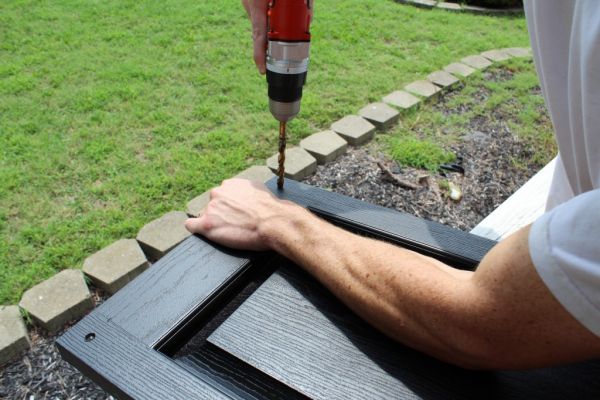 The shutter then gets held up against the house near the window and you can use a pencil to mark the siding where the holes are located.  Then the holes were drilled into the house with a 1/4″ diameter drill bit.  Make sure the bit is sharp or it's going to take forever.  It's probably a good idea to not do this in flip flops and to move any St. Joseph's statues before you begin.
With the holes drilled into the house, you just use the fasteners that came with the shutters and bang them home with a hammer.  The fasteners are plastic and ribbed to grab the smaller hole that's drilled in the house.
Like I said.  I hanged one shutter.  My sisters and in laws (Kevin and Cliff) hanged the rest.  Came out pretty nice.  I think it gives the house a nice little boost by adding some contrast.
The rest of the yard could use some work as well, but if we end up staying there we'll probably consult a landscape designer.
What curb appeal projects are you working on?  Are you incorporating fall touches into the look? 
blog comments powered by

Disqus