Dining Room Wrap-Up
Finally.  We're done the dining room wainscoting project.  Yep.  All done.  Well, except for some minor paint touch ups and a little bit of caulking.  BUT, it's on a 6″ section of doorway baseboard molding, so.. technically, it's not really IN the dining room.  So, like I said.  We're done.  High five.
I don't want to seem like we're spiking the football here.  We posted last week when we finished up the painting and we got a lot of very kind comments.  I almost feel guilty posting about it again.  Almost.
We started the planning for this project back in February with an intro post.  We started the demolition and electrical work in March and April.  The actual trim carpentry started on May 15.  So, it took us about 6 months from planning to final brush stroke.  Yikes.  It was worth it.  Here's a more thorough wrap-up of the work that went into the dining room.
Our Dining Room Wainscoting Project, the Cliff's Notes.
A year ago, the room was completely unpainted.  We still have quite a few rooms in this builder boring state at the moment.
We started the upgrade process by adding some molding beneath the crown and painting it all semi-gloss white. Then we painted the room accessible beige by Sherwin Williams.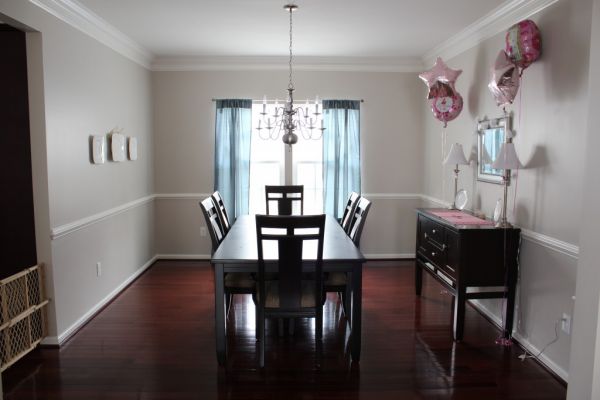 Then the rest of the process went like this…
And now we're all done…
You know you're getting old when wainscoting is considered eye candy.
Couple things to note.  See if you caught this.  The dining room table is missing a chair.  It was in another room when I was taking the pictures.  Oops.  Lisa noticed.  I didn't.  Also, we're going to be adding some additional decor items at some point and eventually replacing the cellular window shades.  For now though, this is fine.
Any items you're dying to remove from your to-do list?
blog comments powered by

Disqus