Our Simple Fall Decor
Hey everybody!  Hope you're enjoying the cool Fall weather we've been having recently.  It really puts me in the mood to decorate for Fall and buy more pumpkins!… and apple cider donuts!!  This year we're keeping our home's fall themed decor simple by reusing some of the decorations we had up last year and adding a couple small yet festive new ones.
Our front door is finally finished.  John just painted the sidelights to match the front door.  If you recall, they were still somewhat blue-er than the gray door.  The door was originally this gray color, but we attempted to paint the sidelights and the door a year ago and didn't get the color right.  Here's the before, with the door painted the right gray color but the wrong sidelight color…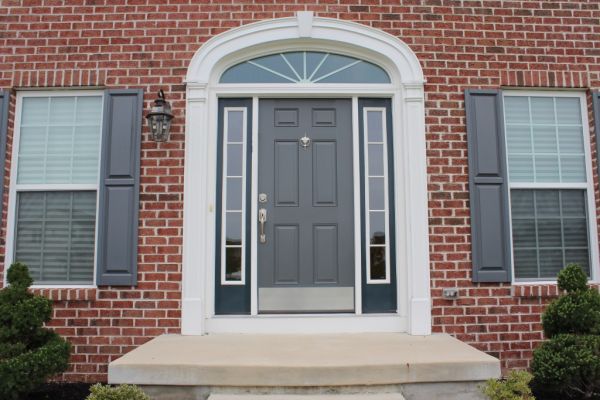 Here's the door now, complete with a very cool blue pumpkin…  If you don't notice the color difference in the sidelights from the before and after, it's okay, it's pretty subtle.
We also picked up some burnt orangey mums.
On the inside of the house, we added a burlap wreath.  We made the wreath ourselves from some basic craft supplies.
Our mantel looks nearly identical from last year, with the pumpkin banner and all my little pumpkins I've been picking up.
I also like to add some fall theme ribbon to my normal home decor to dress it up a little.  See those orange ribbons around the candles?  There are more than a few of those around here.
Like on my fleur de lis candles…
and our dining room lights…
We also have a couple simple items for our kitchen table.
That's what's in our home at the moment.  I'll admit it, I had these decorations ready to go the day after Labor Day!    I'm sure I'll be adding a few more pumpkins here and there!  Fall is the best!  We're looking forward to visiting a pumpkin patch with the baby soon!
Enjoy your decorating!!  Looking forward to seeing everyone's decor.
blog comments powered by

Disqus