Repairing Our Neighbor's Garage
Chris actually worked on this project last weekend (as in 10+ days ago), but I've been running around like a chicken with my head cut off for the last several days so I haven't had time to even think about it. Then, as is the case with most house projects, I quickly forget a "before" when I am so pleased with the "after" (it must be renovating PTSD) that I completely forgot to post about it. So here we go!

We got 3 rain barrels by paying just the tax from the city of Oakland and they arrived several weeks ago. We hooked up two on the side of the house but still had our 300 gallon one to hook up


The plan was to install a gutter and downspout on the side of our neighbor's garage and hook it up to the downspout and water our veggies and future citrus trees we'll plant over here


But clearly the side of the garage has seen better days


And as with most weekends it feels like lately I was away at work (this time the Raiders). It is amazingly nice to be moving up the totem pole and getting more work with the A's and Raiders, but I do have to admit that it can be a bummer being taken away from housework on the weekends. But, seeing as I'm still in a cast this would probably not have been a great job for me to help out on anyway. Reciprocating saw + person who can't walk correctly and is constantly off balance wearing a cast to her knee = not a safe situation.

So Chris took the bull by the horns and started taking off the rotten siding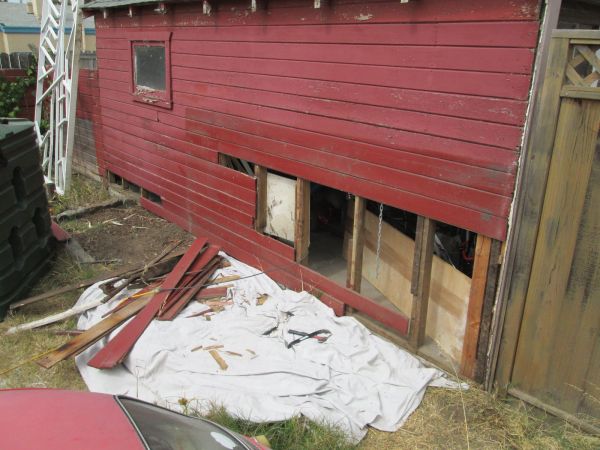 Can you see Mr. Christopher through the holes in the siding? It's like Where's Waldo.


It didn't take too long to remove everything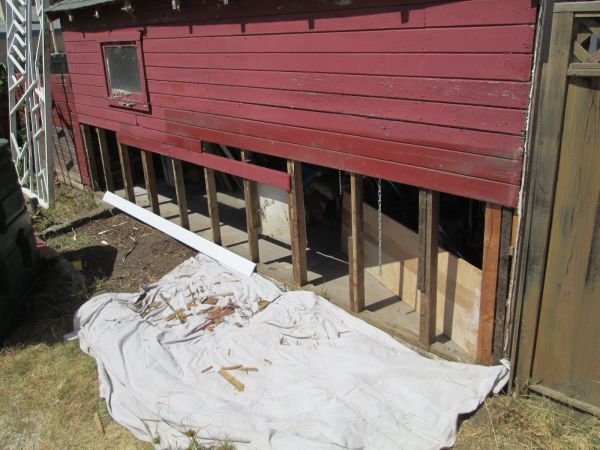 Whoa there. We hadn't thought we'd be ripping off that much, but some of the siding was put together in different ways so Chris resolved that it would just be easier to rip off a little more to make the job of putting things back together easier.

The awesome thing about this project was that our neighbor was very excited and encouraging for us to repair it. She graciously offered to buy the siding in exchange for Chris doing the work. So nice :) The garage is technically hers, but it's also the side that's on our property so I though that was a pretty sweet deal.

And with all the necessary siding off Chris primed all the 12 pieces of siding she had gotten from HD and started putting it back together. I found it amazing that he was done by the time I got home from work that night, and the next morning I marveled at his work in the daylight


Chris had taped the window as a precaution in case it broke while he was demo'ing with the reciprocating saw and then putting things back together with the nail gun. No one wants shard of glass falling on top of them.

There's even a nice little notch cut out to make room for the rock wall


The next morning Chris continued nailing things in place with the nail gun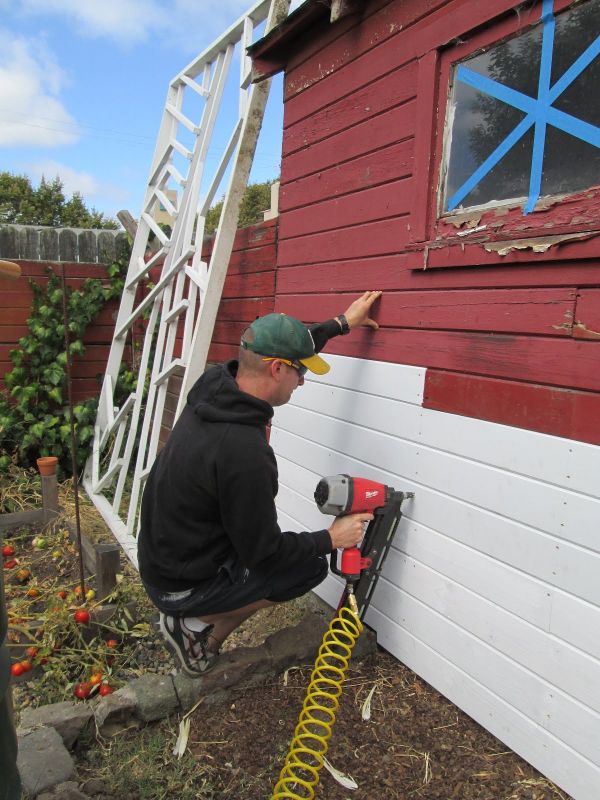 The task wasn't complete however because there was still the peeling, rotten window to take care of


Chris was initially hopeful that he could sand and glaze it in place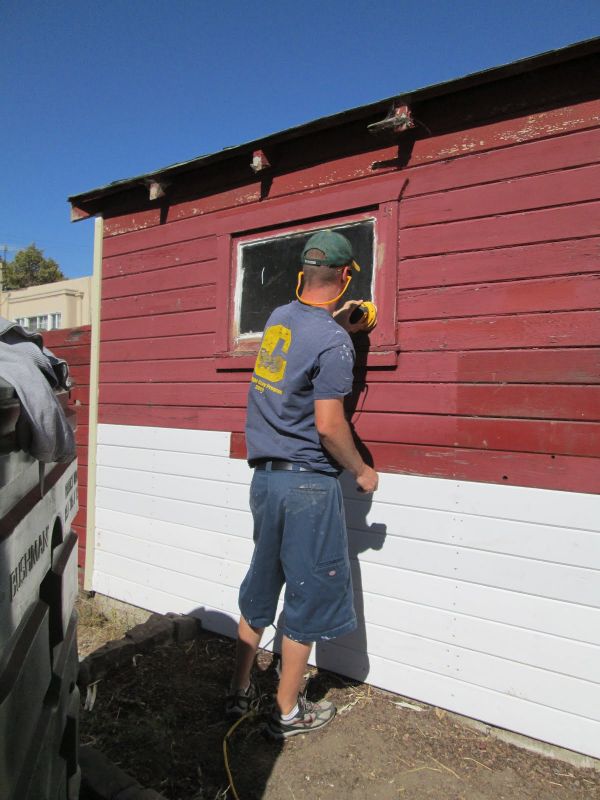 But it was really not in good shape so he decided that popping it out and repairing it was a better idea


The frame was really in bad shape so he had to use several layers of bondo to repair it


And after the frame was repaired he began the task of reglazing (something he's gotten really good at)


Then it was just a matter of cleaning things up, popping it back in place and patching a little here and there


It certainly looks ugly, but that's just because there are 14 layers of paint, bondo, caulking, etc., but it's in top working order again


Now the fun part begins for me: I'll patch and caulk all the little holes and gaps all over the siding and then prime and paint the garage. Hopefully I'll be able to get to that task next week for 2 reasons: the A's are on a road trip and I get my cast off TODAY, hooray! (2 more hours till my doctor's appointment!)

**UPDATE: I got my cast removed, which is amazingly awesome news. However, I now get to wear a plastic brace from my ankle to my knee for the next month. So that sucks. Still no super exciting renovations for me for the next 4 weeks because my doctor told me to stay off of it. I'm sure I'll find something to do :) Cast Meryl has been retired, now it's Brace Meryl.
blog comments powered by

Disqus