Refinishing the Garage
Clearly when you're doctor removes your cast but then decides to stick you in a can boot (and soon to be plastic brace) for another 4 weeks and tells you to stay off your feet you immediately think, "So that means I can refinish our garage right?" Duh. You can't keep a remodeler down! :)

Saturday afternoon rolled around (after we had removed the cemented in tree) and we decided it was time to finish up the garage. We left off with Chris having replaced a bunch of the siding and so I came around with a paint scraper and started scraping off all the loose paint. And there was a lot of it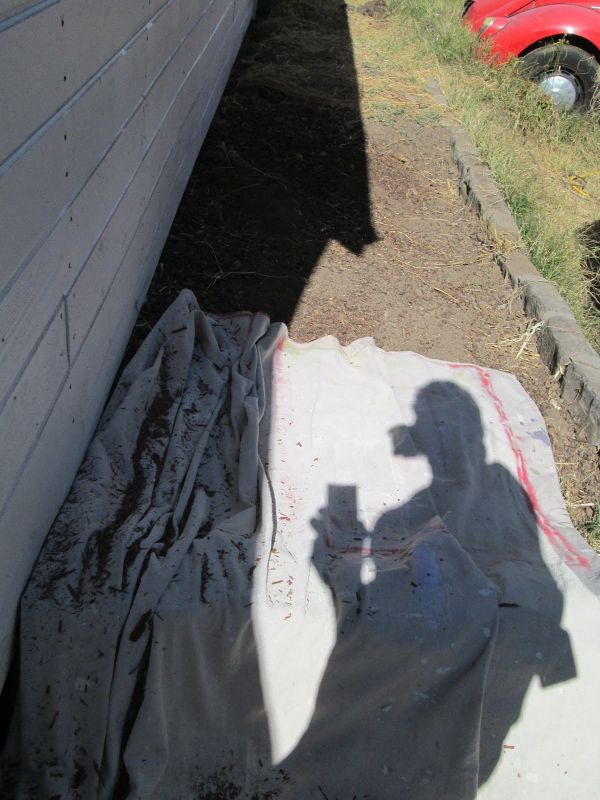 Because the garage was likely painted with lead paint I made sure to wear a mask and I also put down a drop cloth under all the areas I was working to catch the paint flecks that came pouring off so they wouldn't get into the soil. In about an hour and a half the garage went from this


To this


I put my foot down at attempting to crawl up the ladder to get the last few rows of siding in my boot, so I asked Chris pop up and do it


Shortly after we called it a day, but we were back at it Sunday morning patching all the holes and cracks with bondo and caulking


Then it got a good hose down to clean it


And it was ready to paint (it certainly always looks worse before it gets better)


When we painted the back of our garage I did it with a paint brush (and it sucked) because there was about 2 feet of working room and it's wood siding so a roller doesn't work too well. But this time we used the sprayer and it went much faster


Then we painted 2 coats of the house color (slightly barely dirty light blue gray). After that it was the finishing touches. I painted the trim color around the windows and the sides but was painting like a fucking idiot because I over painted everywhere (seriously, I have no idea what was going on with my brain)


So obviously I had a lot of retouching to do.

Chris dug two holes for our future Meyer lemon tree and mandarin orange tree (we got dwarf varieties of both)


By then it was about 4pm and my leg was feeling pretty fatigued so I pulled up a chair and hung out with Chris. I felt bad about not working and just watching the work, but I also knew I shouldn't push it. And although I helped Chris here and there, he largely hung the gutter by himself


And we were both very glad that it went much smoother than last time. He tested to make sure the pitch was right


And it was, hooray!


We had also planted our dwarf mandarin by this time but hadn't been able to snag a bush Meyer lemon at HD (though I didn't really think that would happen). So yesterday when I was out in San Francisco at a meeting with my brother I picked one up from Sloat Garden Center (a really awesome, super helpful and really friendly nursery who also carries my mom's greeting cards so they're even more awesome). I didn't have time yesterday to plant it because by the time I got home from jobs number 1 and 2, it was time to go to job 3 of the day: working slo-mo at the Raiders Monday Night Football game. I was TERRIFIED. Working Raiders games is a lot more stressful, there are about 4 times as many people, it was my first regular season game and it was MNF so I was pretty much shaking in my boot (and I was actually wearing a can boot so that statement is literally true). Chris may have received several texts from me about possibly vomitting or hyperventilating, but all went well and I actually did really good. I only got yelled at 3 times, which is actually quite a successful day.

I had intended on planting the tree this morning and getting to it in the middle of writing this post actually, but I looked outside my window about 15 minutes ago and saw that Chris had already planted it yesterday when he got home from work. What a nice little surprise from a wonderful Mr. Christopher :)

Here is our in need of help side of the garage before


And here she is after


I think that's pretty damn snazzy :) I love our little trees and can't wait for them to fruit


And although the big, hulking rain barrel still needs to get hooked up (and our downspout completed to call this project done), we need to replace the fence we share with the neighbor first


Well, we don't need to, but the rain barrel is getting plopped down right in front of it, so if we don't replace it now it clearly will never get done. Time for another project!
blog comments powered by

Disqus